Easy to place an order 24/7 on our webshop platform 
Step 1. Your currency of choice

On your computer screen choose your currency in the top-right part of the page.

Smartphone On a smartphone go to the 'hamburger'-menu on the top-left of your screen and scroll down to Currency.

Hong Kong Dollar Our invoices are in Hong Kong dollar; in this way we have no exchange rate fluctuations and we are able to maintain our low prices.
Step 2. Your account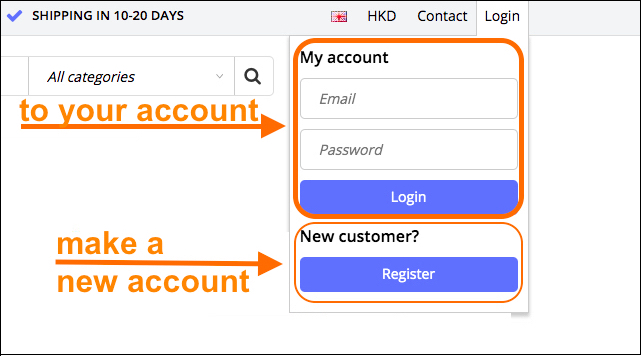 Login When you've already registered, you can log in right away. You will be directed to your dashboard, so click 'go back' in your browser to go to the former page. And refresh the page to see VIP-prices (if you are a VIP-customer).

New account Before you place an order it is recommended to open a new account first. This is easy & simple. We don't ask your birthday ;-) and a new account doesn't need our approval, you can order right away.
Smartphone Scroll all the way down on your screen, until you see 'MY ACCOUNT'. Open it by clicking the V and then click Register.

Password forgotten
Have you forgotten your password? This happens to the best of us! Just go to page Forgot your password fill in your email and press <enter>.
Step 3. Create your account
Creating your account is easy, fast & simple. Only the fields with a red * Asterix are mandatory.

Store multiple addresses. Reorder any of your past orders. An account is mandatory when returning products. We give more priority to tickets/question in an account.
An account makes ordering even more easy!

Step 4. Choose your products

Phone parts easy access our wide variety of phone parts in 2 ways. An overview of all parts per phone model, like the iPhone 8 and it's phone parts. The 2nd way is a collection of the same parts of a phone serie. For example all Loudspeakers for the iPhones or all batteries for the Galaxy J series.
Accessories & tools navigate to our accessories via our categories Cables, Chargers, Powerbanks etc. Our variety of Repair machines & tools is divided in the 3 sub-categories Tools, Soldering machines and LCD Repair Machines and it's sub-sub-categories.
All parts for 1 model - example

Specific part for all iPhones - example

Step 5 - Your shopping cart

Click on the button on the top-right side of your PC/phone's screen to go to your shopping cart and your ordered products:

Currency Converter Our invoices are in Hong Kong dollar; in this way we have no exchange rate fluctuations and we are able to maintain our low prices. We recommend XE Currency Converter to calculate the amounts quickly into your own currency. Also available as an easy-to-use App in iPhone's App Store or Google Play for Android phones.
In your shopping cart you have your total discount, the shipping cost and an overview of the products you have ordered. Change and update (the quantity of) your products, add your discount code and see the new total amount and new shipping cost.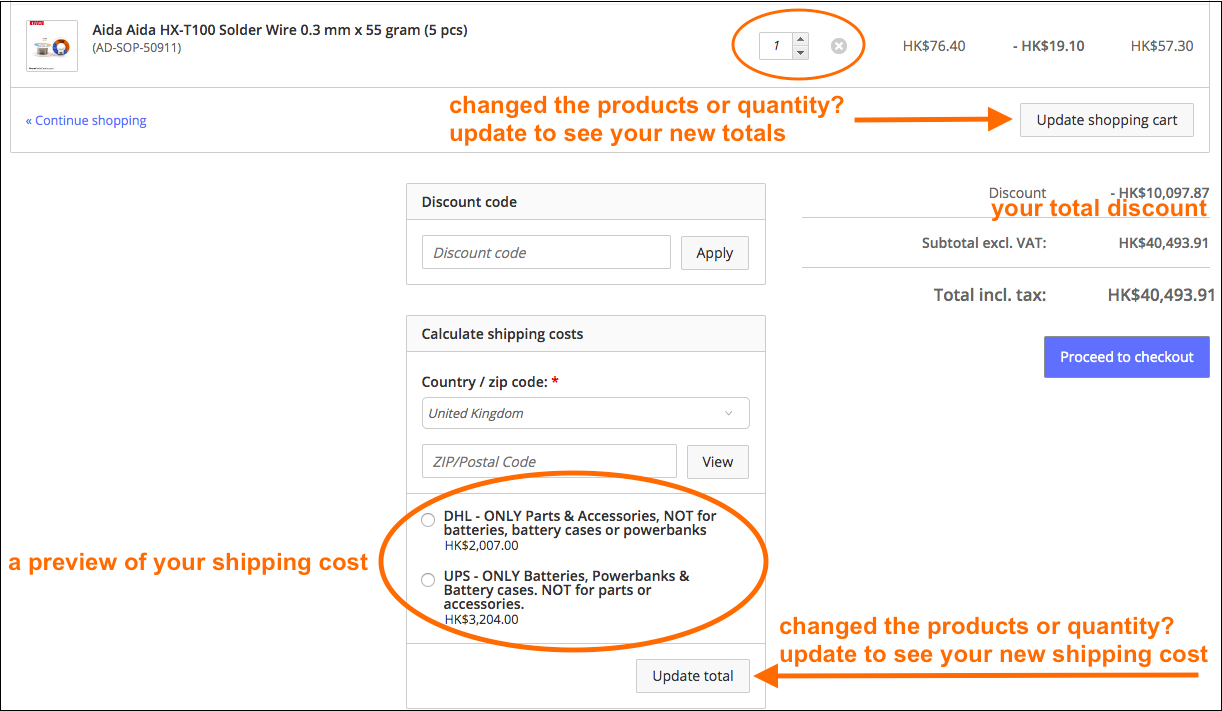 Click the blue button to go to the checkout, here you check your address and select your shipping and payment method.
Step 6 - Check out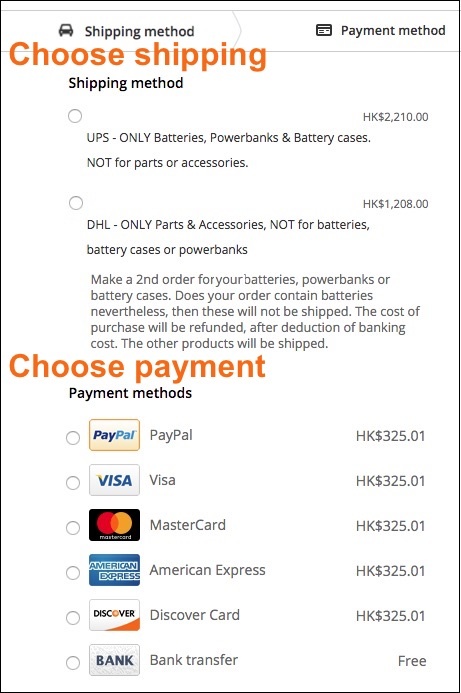 Choose shipping method
Batteries are considered to be dangerous goods, so shipping is more expensive. For this reason we have 2 shipping methods:
DHL Accessories and smartphone parts are send with DHL.
UPS Batteries, powerbanks and battery cases are shipped with UPS.
Batteries and accessories can not be shipped together.
Choose payment method
Because of our low prices, the payment cost are passed on to you. We have the following ways of payment:
Paypal The invoice is deducted from your Paypal account.
Credit card You can choose from various Credit cards. Via Paypal the invoice will be deducted from your Credit card account.
Bank transfer Your order will be processed after receipt of your payment.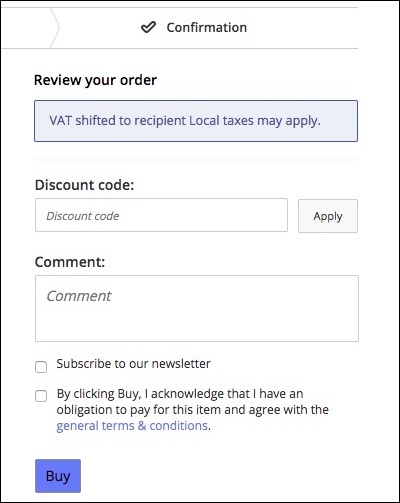 VAT Our invoices have no VAT, as Hong Kong has no VAT either.
Discount You can use your discount code in this last step of the check-out process.
Newsletter Subscribing is recommended; to be the first to know about new gadgets and accessories, with early adapter discount. Easy to unsubscribe whenever you want.
Terms of Sale Put a check mark before being able to place an order.
Step 7 - Paypal
If you have not paid via bank transfer; the next step will guide you to Paypal's payment page. Here you can pay via your Paypal account or your payment will be deducted from your Credit card account.